Car Hire Commonwealth Games Gold Coast | Getting Around Event Venues
By

lewis

On

17 May | '2017
Book Your Gold Coast Car Hire Early For A Fun Filled, Stress Free Commonwealth Games Experience!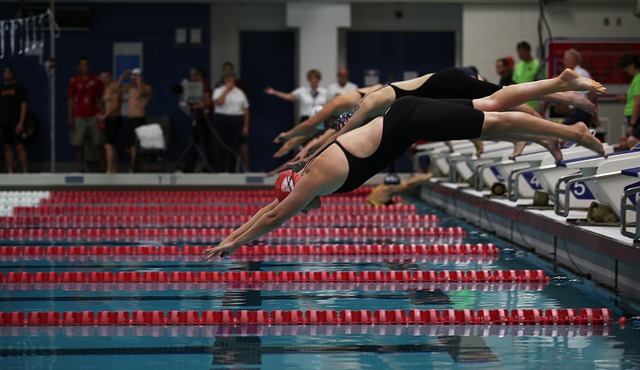 April 2018 feels like a long way off, but before you know it, it'll be here. If you really want to make your time spent at the Commonwealth Games one you'll remember, your preparation should begin the moment you arrive at the Gold Coast airport to pick up your car rental.
The Commonwealth Games will be the largest sporting event Australia will see this decade, and we can expect to see more than 100 000 visitors descend on the Gold Coast for the occasion – in addition to the usual tourists who visit all year around. Every sports person attending will have been preparing for months for this event, and if you're planning on being a spectator, you should be preparing too by booking your car hire on the Gold Coast well in advance.
Most Commonwealth Games visitors will be using shuttle buses from park-and-ride sites located in Broadbeach, South Carindale, Coomera, Gold Coast University Hospital, Helensvale, Nerang, Surfers Paradise and Varsity Lakes station. But if you're planning on enjoying the local attractions between sporting events, you need the freedom of a car rental.
Why hire a car to get around during next year's Commonwealth Games?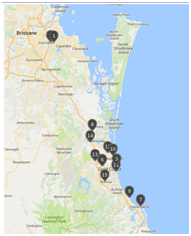 Did you know that the distance between the southernmost and northernmost Commonwealth Games venue is a whopping 100 kilometres? If you were to use public transport to get from Coolangatta to Brisbane it would take over 2 hours (including connections) when it would take just one hour by car. Hiring a car also allows you to create a trip itinerary that takes into account where various sporting events are taking place so you can combine your attendance with other fun activities in the area.
Make sure you don't miss these Gold Coast Attractions while attending GC2018:
We'd recommend hiring your car as early as possible to avoid disappointment. Depending on what sport you're keen on watching, here are the main venues (and their nearby attractions) that you could visit…
Visiting Coolangatta for the Beach Volleyball? Make sure you also visit the famous Snapper Rocks and its amazing beachfront.
Visiting Currumbin for the Road Cycling and Race Walks? You can also visit Currumbin Wildlife Sanctuary to see dingoes, kangaroos, koalas, Tasmanian devils and wombats in their natural habitat.
Visiting Robina Stadium for the Rugby Sevens?
Burn off all that excess energy by visiting the indoor trampoline park Bounce Gold Coast with the whole family.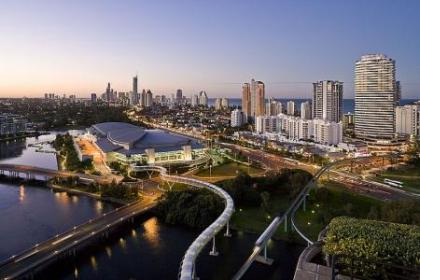 Visiting the Gold Coast Convention and Exhibition Centre for the Basketball/Netball or the Broadbeach Bowls Club for Lawn Bowls?

Take in some indigenous culture at the Desert Art Centre, or spend an evening playing the slots at Jupiter's Casino.
Visiting the Metricon Stadium to watch the Athletics or the Carrara Sports and Leisure Centre for Badminton, Para Powerlifting, Weightlifting andWrestling?
The area is famous for all things golf related, so be sure to pass by the Carrara Gardens, Emerald Lakes or Palm Meadows Golf Courses to tee off.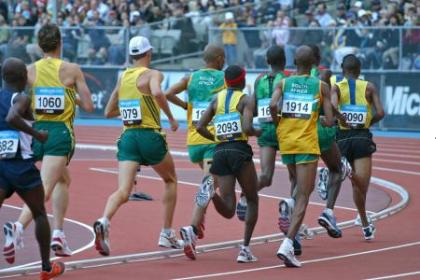 Visiting the Nerang Mountain Bike Trails for the mountain biking? With Circus Arts Gold Coast just around the corner, you can finally fulfill your dream of becoming a trapeze artist!
Visiting the Gold Coast Aquatic Centre for the Diving/Swimming, the Gold Coast Hockey Centre for the hockey or Southport Broadwater Parklands for the triathlon events
Be sure to spend some time at the and at the Holoverse Entertainment Centre (the World's first Holographic Entertainment Centre) while you're in the neighborhood.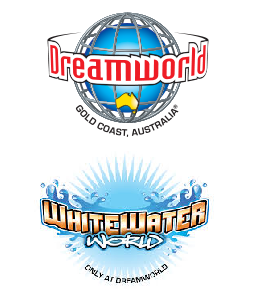 Visiting the Coomera Indoor Sports Centre to watch Gymnastics/Netball? With Dreamworld and White Water World just minutes away, you could park and walk between the two.
Visiting the Oxenford Studios to watch the Boxing, Squash and Table Tennis? Then you're in luck. You are less than a kilometer from Movie World and Wet'n'Wild, so you could easily spend all day there.
Visiting the Anna Meares Velodrome to watch the Cycling or the Belmont Shooting Centre for the Shooting?A visit to Tomato Lake offers beautiful scenery and a nature experience, all in one!On a final note, we recommend you read up on parking restrictions so as not to get caught out paying hefty parking fines or unnecessary tolls.
With so many things to see and do in and around the Commonwealth Games venues, you'd be a fool not to book your car hire today and start planning your trip. Whether you're looking for a standard car or minivan, Lewis Auto Hire can assist you from the moment you land at the Gold Coast airport to the moment you leave. To avoid disappointment, contact us today 07 5572 4508 info@lewisautohire.com.au
For more information on the Commonwealth games venues go to: https://www.gc2018.com/sports/venues
For Commonwealth Games Tickets go to: https://www.gc2018.com/tickets#home