How Hiring A Car For Your Easter Holidays Will Ensure You Can Attend All The Fun Activities Across The Gold Coast
How Hiring A Car For Your Easter Holidays Will Ensure You Can Attend All The Fun Activities Across The Gold Coast
The Gold Coast has long been seen as Australia's holiday capital and a good all-year round destination. Easter is an even better time to visit the city with the family thanks to the numerous exciting family-friendly events held during the April school holiday period.
Easter this year takes place from 14th – 17th April with school holidays running between 1st April to 23rd April (state dependent). Fly into Gold Coast Airport and use our convenient and affordable car rental service as the best way to get around the city and to all the top things to do and see.
There are many great reasons to put sun-soaked Gold Coast on your holiday bucket list this Easter: the all-year round favourite vibrant beaches, trendy entertainment venues, riveting theme parks, water sport activities and tours and cruises. The city lays out plenty of family-focused fun events that will make any holiday a memorable one.
Put these top events on your Gold Coast Easter holiday schedule. With so many events to choose from be prepared for a packed daily schedule. Gold Coast car hire is the most cost effective way to get across the city.
SeaFire fireworks display – 1st April 2017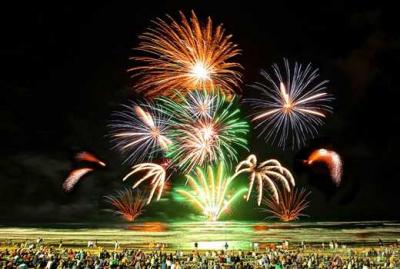 Surfers Paradise Beach delivers again with the SeaFire pyrotechnics display. The event starts off with a navy helicopter display and a live band. Top pyrotechnic show designers come together to wow and amaze audiences with awe-inspiring displays.
In between events audiences will be kept entertained with a number of variety acts that include jet-ski freestyle stunt teams. If you love the hypnotic thrill of aerial fireworks display lighting up the night sky, this is a world-class event you cannot miss. Our only suggestion is to get there early to claim your spot.
http://www.surfersparadise.com/whats-on/annual-events/seafire
Easter at Capri – 15th April
Get into the spirit of Easter at Easter at Capri on 15th April. Children will delight in a fun-filled event that includes meeting the Easter bunny, face-painting, Easter egg give-aways, a petting zoo, food tasting and a whole host of competitions to enter to win prizes.
https://moregoldcoast.com.au/event/easter-at-capri/
Bleach* Festival – 31 March – 16 April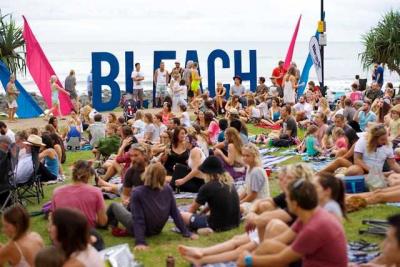 The Bleach* Festival is a colourful celebration of the vibrant tapestry that is the arts, Gold Coast style. There are plenty of events during this three-week-long event to keep everyone in the family focused on fun, from concerts on the beach to live theatre.
Main events take place in the Southern Gold Coast but getting to each of the satellite events hosted throughout the city is easy with an affordable car rental. Challenge your own perceptions of the Gold Coast and experience the city from a different perspective with the ambitious collection of cultural and art works that will breathe life into the city's public areas and natural settings.
http://www.bleachfestival.com.au/
Australian Street Entertainment Championships – 14th to 17th April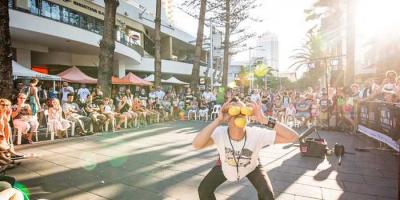 There will be much to vie for your attention at Cavill Avenue. The highly anticipated Australian Street Entertainment Championships (ASEC) held at Surfer's Paradise is a great way to kick off your Easter holiday programme. This is fun central station where Australia's top street performers come together to showcase their dazzling skills to a throng of thousands of spectators.
Watch awe-inspiring acrobatic moves and you may just find your own rhythm moving to the music. This year the event heats up a notch with death-defying circus stunt manoeuvres performed by Globe of Death.
http://www.surfersparadise.com/whats-on/annual-events/australian-street-entertainment-championships
Choose the perfect holiday destination this Easter – the Gold Coast
As you can see, in addition to the usual attractions on the Gold Coast, Easter 2017 is made all the more exciting with this electrifying line up of events. Worried about how you will fit in everything on your must-see list?
Once you land at the Gold Coast Airport, Lewis Auto Hire will provide you with car rental that is reliable, comfortable and friendly service. With our car hire rates, you spend less money on transportation thanks to our cheap car rental on the Gold Coast and have more of it to spend at world-class attractions and events.
Looking for car hire at the Gold Coast Airport? Enjoy first class service from a local family owned car rental company. Book your next affordable car rental from Lewis Auto Hire. We are happy to take care of the transport for you so all you need to worry about is having a good time.