Look No Further For All Your Mini Bus Hire Needs On The Gold Coast
A reputable and professional mini bus hire company should offer a number of desirable benefits such as great service, convenient location and vehicles that have highly desirable features and that are in excellent condition. At Lewis Auto Hire you get all this and more which is why you should look to us for all your mini bus hire needs on the Gold Coast.
Hiring the right vehicle for your well-deserved break or overnight leisure outing in the Gold Coast with family and friends contributes to the ultimate success of your adventure activities – a vehicle that accommodates all your needs.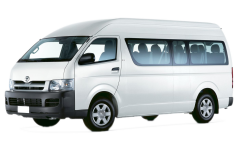 Too small a vehicle and you won't be able to fit everyone in, too large a vehicle and you may be spending money that could be best used elsewhere. Maybe you could add on extra activities or even afford to extend your stay to enjoy more of Queensland's star attractions. With more than 20 million visitors in 2016, Queensland is a treasure trove of exciting things to do and see.
Is a mini bus hire on the Gold Coast the right choice for you?
It is surprising how many people choose the smallest vehicle when it comes to holiday car hire thinking that they are saving money. For large-sized groups of about 10 to 14 people, hiring one vehicle is a much more cost effective option than hiring three or four individual cars. It is not just the rental cost of more than one vehicle that adds up but petrol costs for all vehicles as well. Think of how much more cost effective your holiday would be if the group splits the rental and petrol costs when hiring just one mini bus. One mini bus is also a safer bet when it comes to availability. Especially during peak holiday seasons there may not be available the number of vehicles you require for your group. Of course, at Lewis Auto Hire we recommend that you book well in advance to avoid this risk.
Savings in money is just one benefit of mini bus hire on the Gold Coast with driver. It is always best when travelling in a group to keep everyone together in one vehicle. There is no worry or stress of losing track of one vehicle or losing precious time waiting for others to catch up. There is also the added sense of fun and excitement with the opportunity for bellying out lusty song anthems.
Convenience takes a number of forms
The perfect transportation vehicle should prioritise convenience as much as it does cost effectiveness. This holds especially true for holiday rentals. When it comes to convenience, what should you ideally be looking at?
Mini buses are perfect for transporting large groups as well as having a storage capacity to accommodate all of their luggage too. You will need storage space for sports bags, sporting equipment and food hampers. And if you are taking children with you, more storage space is essential for toys, prams and car seats. Our minivans for holiday rental at Lewis Auto Hire allow for baby seats to be fitted.
The most important criteria here is the number of people a minivan can carry. Our fleet includes 12-seater mini buses (luggage as well as seating capacity) and 14-seater minivans. One of our most popular choice is the Toyota Hiace Commuter Mini Bus that many customers find offers great value for money. We ask that should you choose the 14-seater, that the driver(s) holds a current MR or above licence.
The perfect car hire Gold Coast company should offer a little more than just highly sought after benefits. They should also offer the convenience of an accessible pick up location. Having flown into the Gold Coast, the last thing a tired group wants is to hassle for car rental availability. Fortunately, there is no such stress when choosing Lewis Auto Hire for your mini bus rental.
Being a family owned and operated business means that we can and do go beyond our customers' expectations. We know the value of offering a reliable and cost effective service and all of our staff are firmly committed to great customer service that looks to meeting your car hire needs. Looking for reliable mini bus hire at Gold Coast airport? Let Lewis Auto Hire be your first choice. You will find vehicles that meet all of your needs and you enjoy the benefits of dealing with a reputable well-managed company. Decided on making your next adventure in Queensland? Book your mini bus rental today.
Gold Coast
10 Henchman Av
Miami, Gold Coast
Queensland 4220
Email: info@lewisautohire.com.au
Monday to Saturday : 8:00am – 5:00pm
(Closed Christmas Day, Good Friday and New Year's Day)